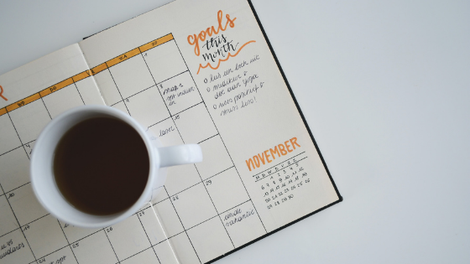 Goals give us a sense of direction, help us to feel energized, and enable us to be more persistent towards creating what we want for ourselves. However, goals often get a bad rap, especially this time of year. According to a 2016 study, of the 41% of Americans who made New Year's resolutions, only 9% felt they were successful in keeping them. Why do we fall short? Often, resolutions don't stick because we set unrealistic or too many goals, don't keep track of our progress, or forget about them altogether. 
Let's change the narrative this year by setting goals in way that actually works. We can do this by using WOOP. This strategy, formally known as Mental Contrasting with Implementation Intentions, is based on the research of Gabriele Oettingen, a professor of psychology at New York University and the University of Hamburg. WOOP can be used to help us think about our goals differently and create behavior change that sticks.
Take a quiet moment to yourself, preferably with pen and paper, to go through these steps:
Wish: What is the most important wish or concern for you in your life right now? This is the goal and should be something that is meaningful and challenging but ultimately realistic for you to act on and achieve. Summarize your goal in a few words.
Example: Complete a 10K without walking.
Outcome: What would be the best thing about fulfilling that goal? Pause and imagine how achieving your goal would make you feel and what outcome you would create.
Example: I would feel empowered, confident, and proud of myself. I would embody my value of a healthy lifestyle.
Obstacle: What is within you that might hold you back from fulfilling your goal? Consider inner obstacles that could get in your way such as thoughts, emotions, irrational beliefs, or bad habits. Imagine your main inner obstacle so that you can see it and understand it.
Example: I often feel tired and think I don't have enough time to run or work out due to work or family obligations.
Plan: Make an "if-then" plan. If your obstacle comes up, what will you do to overcome it? Name one thing you can think or do to move around the obstacle so that it doesn't get in the way. Repeat your if-then plan to yourself: if (obstacle), then (action).
Example: If I am tired when I planned to run or work out, then I will put on my training clothes and shoes and get outside for five minutes. 
When using WOOP with a former client, a teen runner, we uncovered that pre-race nerves (obstacle) were getting in the way of her ability to run a 5K confidently (wish/goal). We improved her pre-race routine to include breathing and self-talk strategies (plan) to help her manage nerves and feel more composed and excited to race, which helped her to PR that cross country season.
Whether we have big or small goals, short- or long-term goals, using WOOP grounds us in reality, allowing us to connect our goals, obstacles, and plans. By starting this practice and repeating it, you'll likely have more fulfilled goals this year, and more positive outcomes created. You can learn more about WOOP and the free app at www.woopmylife.org.
This content was originally featured in the January 2022 issue of Wingfoot Magazine.
By Abby Keenan, MS, CMPC
Abby is a mental performance coach located in Dacula, GA. She helps athletes improve themselves and their performance through mental skills. Interested in learning more and seeing if mental skills coaching would be a good fit for you? Schedule a free consultation.