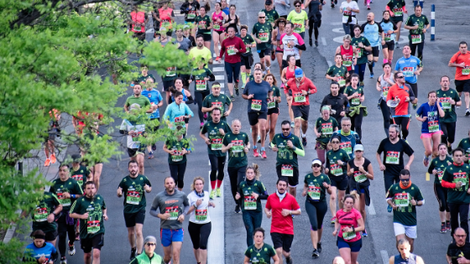 There is something special about the dark, early-morning start of the Publix Atlanta Marathon, Half Marathon, and 5K. You can feel the excitement in the air with the buzz of runners, volunteers, and spectators all getting ready for a memorable experience. For marathoners especially, so much can happen in the 26.2 miles to come. Whether your goal is to run the entire way, cement your Ultimate Peach status, get a BQ, or anything in between, we all want to enjoy our time on the course and be proud of going the distance.
By adding a little MAGIC to our preparation and race day, we can do just that – and feel ready to handle any challenges along the way.
Mental preparation – If you haven't already, now is a good time to start planning for your race. Map out your timeline, gear, logistics, and COVID precautions. Review the course map to get familiar with the route, frequency of hydration and fuel stations, and elevation profile; consider which portions of the race may be difficult or even stressful for you. Incorporate this information into your last bit of training, whether that's testing out CLIF bars during long runs, practicing mantras on hill repeats, or seizing opportunities to run in all kinds of weather. Taking these steps will boost your confidence.
Attention – You should not, and cannot, be focused for 100 percent of the race. Sometimes you may zone out or disengage mentally. Sometimes you may pick a landmark in the distance as a target to keep you going. Sometimes you may reset your focus if someone strikes up a conversation with you. Your attention is a finite resource that can be used strategically.
Group – Tap into the power of your people: Simulate a pack with your training group. Ask your endurance athlete friends about their marathon experiences. Share your preparation and strategy ideas with your coach for feedback. Communicate your goals and needs for race day with your loved ones. Don't underestimate the importance of support.
Intentions – Before you toe the line, set your intentions. What is your goal? What do you want to do during the race? How do you want to be, particularly during any difficult moments? How will you celebrate afterwards? The answers will help you to engage in the miles ahead in a way that feels authentic and meaningful to you.
Controllables – Think about the experience you want to have on race day and everything that will be out of your control (e.g., weather, location of porta-johns, someone clipping your heels, feeling a cramp). These are things to let go of as much as possible rather than letting them steal your focus and energy. Instead, make a list of everything that will be within your control. Spoiler alert: it usually boils down to one thing – you. You control your attitude, effort, and behavior, which you can leverage before and during the race. During tough or unexpected moments day-of, take a deep breath and ask yourself, "What do I control right now?"
Enjoy the miles!
This content was originally featured in the February 2022 issue of Wingfoot Magazine.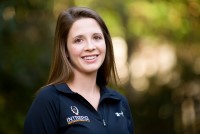 By Abby Keenan, MS, CMPC
Abby is a mental performance coach located in Dacula, GA. She helps athletes improve themselves and their performance through mental skills. Interested in learning more and seeing if mental skills coaching would be a good fit for you? Schedule a free consultation.