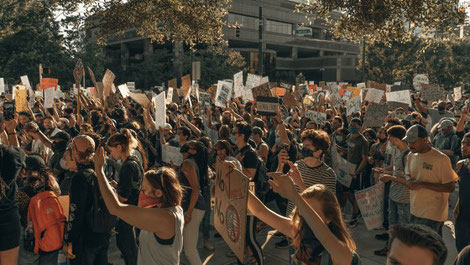 Black lives matter. We're not saying that other lives, other races don't matter. We're not saying that we are anti-police. We personally know and appreciate several officers who are committed to doing the right thing on a daily basis. We're saying that right now, Black people are the ones who are in pain, in danger, and dying at disproportionate rates due to systemic racism in our country, which has only been compounded by the Coronavirus.
We are all people, in pursuit of happiness, in a country that is supposed to be free. No one should live in fear of going for a jog, being murdered in their home, birdwatching in a park, or being choked by a police officer because their skin is black, not to mention the multitudes of other life-threatening actions, microaggressions, and everything in between that have been unfortunately woven into the fabric of our country's past and present.
To our Black friends, colleagues, and clients: We see you. You are important. Your life matters. It's time to dismantle racism - in ourselves, our families, our sport teams, our schools, our workplaces, our communities, and our country. We recognize there's no longer a place for being "not racist" - it's time to become anti-racist. We also acknowledge that actions speak louder than words. 
Much like athletes gearing up to perform at the best of their ability, we've been behind the scenes these last few weeks doing some work. We have started unpacking our privilege to understand it and use it for good, speaking up on social media in support of the Black Lives Matter movement, engaging in conversations with friends and family around racism, reaching out to Black friends and colleagues, wearing shirts with positive messages as a visual reminder as we walk in our local park, paying attention to brands and organizations and how they are responding to this movement, and educating ourselves by listening and seeking to understand the lived experiences of Black people. We have stopped turning a blind eye to racism, expecting Black people to educate us, and being silent.
Right now, the Black community needs us, especially those of us who are white and white-identifying, to speak up. To learn about anti-racism. To listen. To demonstrate solidarity. To amplify Black voices. To be the change. 
If you're with us, let's explore what we can do:
(...and for anyone who has been silent, it's not too late to begin this work.)
Let's be intentional. Let's be consistent. Let's be a part of the solution, not the problem. 
Finally, a powerful thought from physician and epidemiologist, Dr. Camara Jones: "Collective action is power. With all of us working together, I believe that we can dismantle this system and put in its place a system in which all people can grow and develop to their full potential."
If you have a resource we can share, have feedback for us, or if you'd like to share a conversation, let us know.
In solidarity, 
Abby & John